Bybanen light rail system responds to the need for an efficient, environmentally friendly transportation system able to cope with the limited space in the central streets of the City of Bergen. The development process began in 2000 and construction started in 2008. The entire network is 20.4 kilometres long with 27 stops and will be completed in 2022.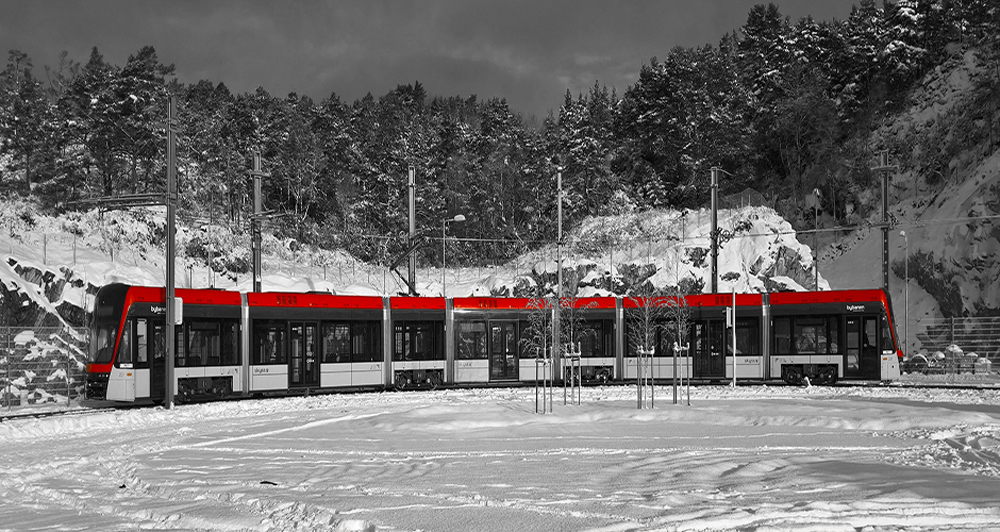 Solution
Light rail was the preferred choice over buses due to its high capacity and use of clean and reliable technology. This mode also presented the opportunity to make substantial improvements the urban development along the lines. During the first phase of development (2008-2010), 9.8 kilometres and 15 stops were constructed. Three and half kilometres were added between 2010 and 2013 and a further 4.8 kilometres in 2016. In 2017, an additional 2.4 kilometres connected Bergen Airport to the city centre.

The light rail line has become the spine of the transportation system of Bergen. Selected stops function as mobility hubs, providing connections with other modes of transport (e.g. buses) and significantly improving mobility within the city. As an incentive, park-and-ride is offered at the transportation hubs and is free of charge for those with a bybanen monthly pass.
Powered by overhead electric cables, the system runs entirely on clean energy (hydropower) with no negative impact to air quality.
Outcome
Since the first phase of construction was completed in 2010, a huge amount of urban development has occurred along the line. The surrounding areas have become very attractive for companies which has contributed to the revitalisation of previously unattractive areas within the city.
Running smoothly and predictably along steel rails the light rail system has become very popular with an increase of 62% in the number of passengers every year.
This has contributed to a decrease in private car use, removed lorry traffic from the city centre and thus, improved traffic flow within the city. The system has eased congestion and provided a new mobility option which is affordable, reliable, safe and environmentally-friendly.
In a recent survey carried out by the County of Hordaland, 98% of respondents reported being satisfied with the light rail system.
Potentials
The Bergen Bybanen showcases that light rail system is not only a transport project but it is also part of a far-seeing development strategy that allows an increase in urban density.

This case demonstrates an excellent way to address increasing mobility demands without additional environmental burden and it has inspired other medium-sized cities around Europe to adopt similar solution.