The city of Reykjavik has experienced quite severe urban sprawl over the last decades, resulting in high car dependency. The high car use causes noise and air pollution and traffic congestion. Reducing car use, and thus wasted time and energy, is one of the aims of the 2010-2030 Masterplan for the city of Reykjavik. This aspiration will largely be realized through a new approach to urban development that will see at least 90% of new construction until 2030 occur within the existing urban area.
Vogabyggð is a former industrial area in the middle of the city and measure 186 000 m2. The industrial activities have either ceased or moved out. In the 1970s a shipyard was established in the area, but could not compete with the Asian shipyards and went under after some years. The brownfield site is one of the first areas to be redeveloped according to the new master plan for the City. Located close to both the city centre, the sea and nature the area provides a link between them. Car independency, high building density and a high percentage of green structure are central in the redevelopment of the area.
Solution
In 2013 five architectural offices were invited to submit a plan to redevelop the area. The competition was won by two parties: an architecture office from Iceland and one from the Netherlands. Together they drew up a high density mixed-use program for Vogabyggð. The plan consists of around 1 400 apartments and 244 000 m2 mixed program i.e. retail space and offices.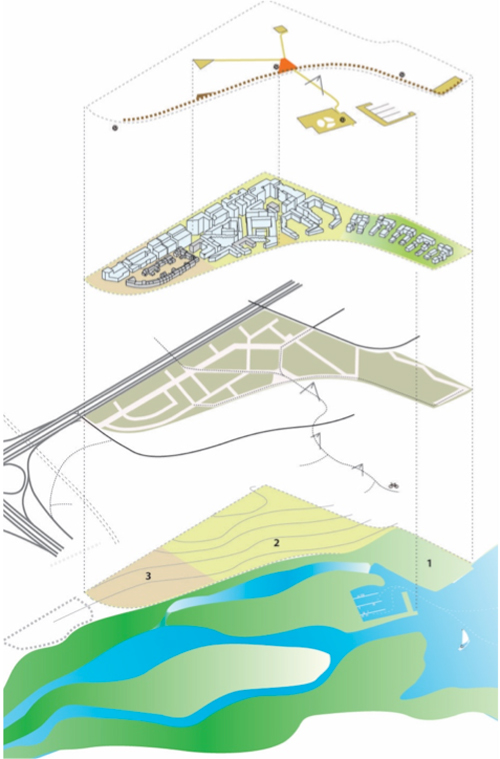 So far 1 000 of the planned 1 560 dwellings have been planned in detail. Construction will start in the summer of 2018 and the project is expected to be done in 2028.
Outcome
The plan for Vogabyggð contributes to the fulfillment of the goals from the Masterplan. To bring back car use, the area will be pedestrian friendly and instead of the traditional three parking spots, Vogabyggð will have one parking spot per apartment.

This is designed to save space, besides creating a disincentive to car ownership. The project area will have three to five story blocks with a mix of functions in them. The apartments will have varying sizes to accommodate a diverse mix of inhabitants.

Green planting on the roofs, in the gardens and on the street, improves rainwater drainage and emphasises the transition from urban environment to nature.
Potentials
Urban sprawl produces social, environmental and economic problems as they segregate the city, create more distance between citizens and induces car use. The plan for Vogabyggð demonstrates how sprawl and car use can be reduced through intelligent urban planning.
The incentives and ideas from the plan to discourage car use have received much praise. The Reykjavik approach contains valuable elements that be implemented or learned from in other sprawling cities who seek to tackle abovementioned issues.