In 2005 Snøhetta won the competition to build Bergen's new faculty for Art, Music and Design. The new faculty would unite six faculty locations across Bergen under one roof while at the same time minimising environmental impact and improving the city's resilience to climate change. The city is known for its abundant rainfall and strong wind year-round. Both the amounts and intensity of rain have increased over the years causing drainage problems, flooding and landslides. Covering more soil with hard surfaces when building new urban areas aggravates the problem.
Solution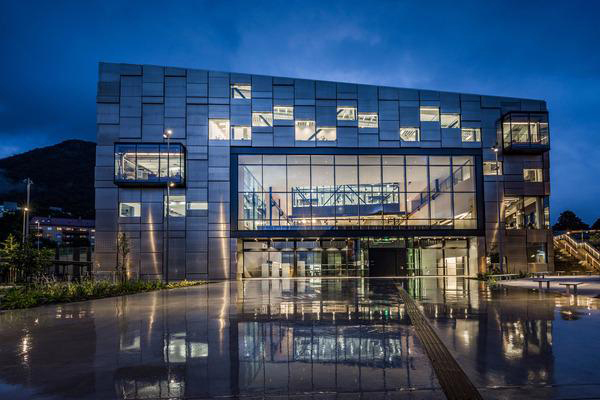 Soon after Snøhetta started on the design work it became clear that the building would need to be more compact to meet the budget. Snøhetta realized that it could use this challenge to its advantage in meeting the environmental requirements. By limiting the amount of space that could be heated and cooled, the environmental impact could be reduced. Instead of a large outdoor area, Snøhetta designed a large project hall that would not require heating or cooling. In doing this, indoor space was added to the program without increasing the energy use and increasing environmental impact.
The plaza in front of the building accommodates a large retention tank capable of accommodating up to 90 litres of water per second. The tank collects rainwater from the 4 100 m2 of roof surface and and other impermeable surfaces.
The water is gradually released into a 500 m³ infiltration pool from where it is distributed to the two large green wetland areas next to the plaza.
Outcome
Together, the retention and infiltration system and the wetland areas help manage heavy rainfall and prevent flooding in the area.
The compact design of the building not only kept the project within budget, but it also brought different parts of the facility closer together, generating more interaction between students, staff and visitors. The project hall is an important element of this social function. It has turned the whole ground floor into a public space where people and visitors can meet and engage with the students and their work in a way that would not have been possible in an outdoor space.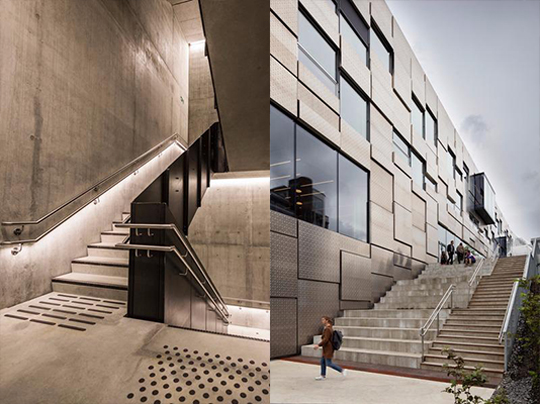 To deal with the heavy use of the building, the design utilised as few materials as possible. Durable materials that can be replaced easily have resulted in a low-maintenance building that copes well with the considerable wear and tear it endures. Secondly, using the same materials throughout provides a calm, non-distracting working environment for the students.
Potentials
The building has been received enthusiastically by the students and people of Bergen. Students and citizens praise the sustainable and open nature of the building. The project hall contributes to more contact and cooperation among students of the different faculties and allows people and visitors to Bergen to engage with the work of the school. The Faculty of Fine Art, Music and Design has demonstrated a commitment to urban quality that can be considered in similar projects worldwide.